L U X U R Y
H A I R S U I T E S​​
Dr. V Abayev is a board certified aesthetic enhancement expert, specializing in a wide variety of cosmetic methods! And while he and his team offer treatments such as Botox, Juvederm, PRP Therapy and more, throughout the years they have perfected one of the most effective methods of hair restoration available today!
At Luxury Hair Suites, we specialize in hair restoration and helping patients to enhance their overall look and self confidence. And with decades of experience, unmatched aesthetics knowledge, and a background in overall health and wellness, Dr. V and his team strive to provide patients with the safest and most effective aesthetic enhancement available across NYC! For more information on hair restoration, and overall aesthetic enhancement, be sure to contact our office today!
THE NEOGRAFT TREATMENT
Whether you're a man or woman, hair loss is a tough thing to deal with, and a lot more common than you might think! And while there's a million different treatments out there, all claiming to offer a series of benefits, few can offer the effectiveness of the NeoGraft Hair Transplant procedure!
A variation of the FUE hair transplant, Dr. V and his team have perfected this method helping men and women to achieve the thicker, fuller, more youthful head of hair they've always wanted! Don't waste valuable time, and money on "snake oil" treatments and products that can damage your hormones, contact Dr. V today and find out if NeoGraft is right for you!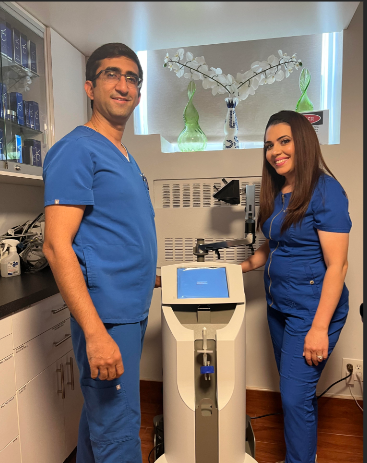 Hair loss is one of the most common issues amongst both men and women. And while there are tons of different hair restoration treatments and procedures out there, the fact is that the vast majority of these methods simply don't work or offer anywhere near the results they claim to. But for every few 'snake-oil' treatments and useless procedures, there are definitely a number of different hair restoration methods that truly work. One of the most common options for hair loss, especially in recent years, is hair transplant surgery.
No matter if you are a male or female, hair loss is one of the most common issues that can affect you as you age. Hair loss is most commonly referred to as alopecia. Alopecia is commonly characterized by patchy hair loss, and is essentially the dermatological term for hair loss. Alopecia is an autoimmune disorder – an illness in which the body's own immune system begins it attack itself and other areas of the body. In the case of alopecia, the immune system attacks hair follicle cells, assuming them to be harmful invaders.